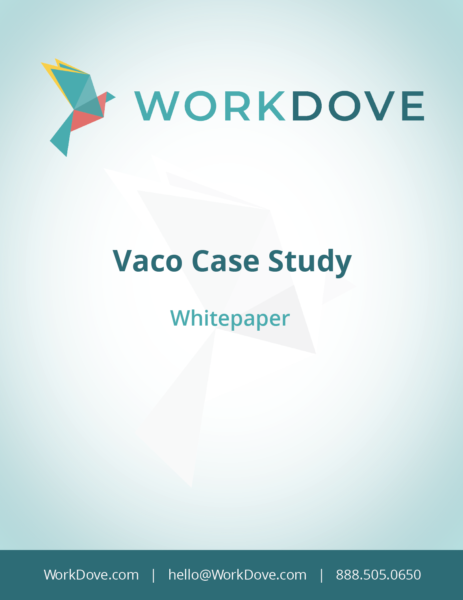 Fortune's 100 Best Companies to Work For outperform their peers and the market by 300%. This performance can be attributed to a workforce that is engaged and inspired by their company's leadership and mission. Research shows inspired employees who are actively engaged with their work outperform employees who are just satisfied by 225%. Happy, focused employees will move mountains to help their organization achieve its mission.
This is not new news, especially for leaders who "get it". These leaders are focused on how to attract, retain, and develop high performing team players. Sid Mitchener, an Anchor Partner and Senior Managing Partner for Vaco operations in the Carolinas, is a great example of this type of leader.
In 2015 Mitchener began using the WorkDove system to manage his team. He invested in the software because he was looking for a tool that supported the three types of feedback everyone needs: Appreciation, Coaching, and Evaluation. The software tracks employees' goals and provides a framework for coaching employees on behaviors — behaviors that drive high performance and foster team chemistry.
Vaco's business model operates with a central shared services office that supports numerous independent offices across the globe. This entrepreneurial culture encourages leaders like Mitchener to seek new ways to grow and develop their teams. As Mitchener launched WorkDove, Vaco's shared services office took notice.
Chief People Officer, Tracey Power, was particularly intrigued. An ICF Certified Coach and Adjunct Professor of human resources, Power knew the impact coaching has on an organization. Power immersed herself in the launch of WorkDove at Mitchener's office, attending training sessions and helping wherever possible. After seeing the results of the Vaco Raleigh office, Power implemented WorkDove for the Shared Services team and began recommending the software to other Vaco offices. Many of Vaco's top-performing offices adopted WorkDove. While these offices were already developing high performing team players, the leaders liked the idea of using software to more easily accomplish this goal and further build upon their efforts.
Vaco leaders know spending time with employees, coaching them on areas of strengths and areas for improvement, and ensuring lines of communication remain open and clear are paramount. WorkDove provides a way to quickly and efficiently capture all this information and ensure this leadership objective remains a priority.